TVs have come a long way from where they first started. Whether it's the resolution, size, or features, just about everything about modern TVs is improved from where they once were.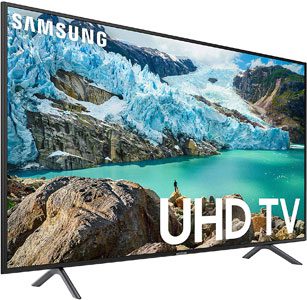 They're now able to do so much more than just show you television shows, thanks to advancements in smart technology. Samsung's UN50RU7100FXZA new 50 inch 4K UHD Series 7 TV takes these advancements and pushes them to their limits.
The first thing to note about this TV is the resolution. It uses a 4K UHD display, meaning you're going to have crystal clear definition as well as deeply defined colors and better contrast.
This resolution is as good as movie theaters, if not better in some cases. Any show you watch will appear in very high quality, especially newer shows that have been filmed in and support 4K resolutions.
This TV is impressive in size. At 50 inches, it dwarfs the TVs you might have seen 10 years ago. This size allows you to set it up in such a way that you can be sitting farther away and still see everything on screen just fine.

Sitting too close to any TV can cause eye strain, so by using a bigger one from farther back, you can save your eyesight and still allow you to see a complete picture. The most impressive part about this TV, though, is easily the amount of smart technology integration.
It's what takes this TV a step beyond your average high resolution TV. First, you'll see that it has integration from a lot of services. You can stream Netflix, Hulu, Amazon Prime Video, YouTube, and more all straight from the TV. There are no extra devices required, just the TV itself.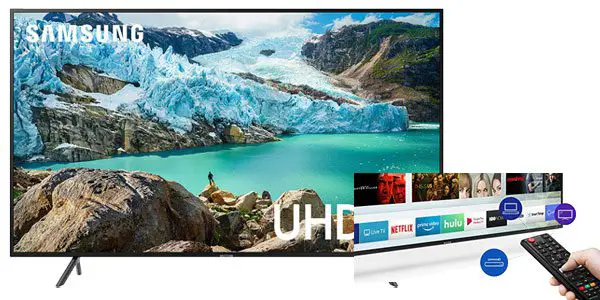 With all of these services preloaded onto the TV, you just have to enter your account information for those various services, and you'll be set to go. It even combines the catalogues from all these different platforms and combines them into one big guide, allowing you to see all the shows you can watch at the same time instead of switching around between apps.
Finally, this TV is compatible with other smart home devices such as Alexa and Google Home, meaning you can simply tell your device what show you want to watch, when to pause it, when to resume it, and so on. This makes browsing your shows a breeze.