Best Tech Gifts 2021 are here! Check out top Christmas gift ideas & Get the best tech gifts 2021-2022 for women, men, kids, teens, family, friends, and more.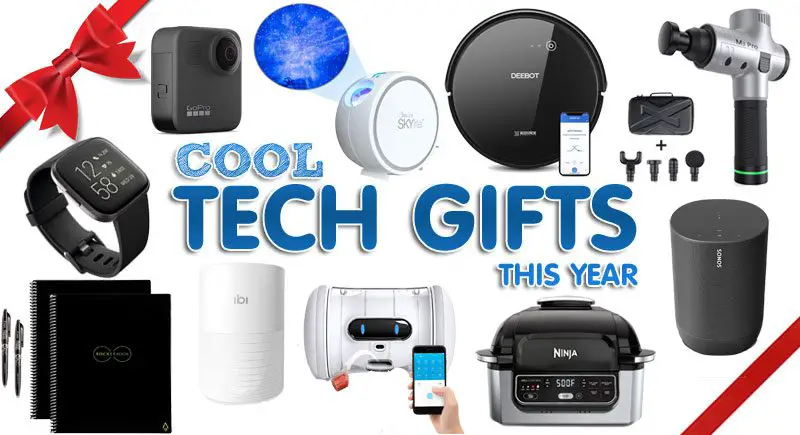 Top 40 Tech Gadgets that will Delight Your Family and Friends this Christmas
Finding the top tech gifts for Christmas in 2021is tricky, especially if you are not tech-savvy. The reason being, there are so many options available. Plus, technology keeps on changing. 
If you are searching for ideas of the best tech gifts for the season, well, you're in luck. 
We have done the heavy lifting for you. We spent more than 72 hours researching the best electronic gifts that would be appealing to all. Also included are sections on the best electronic gifts under $50. 
Well, here is a list of the best tech gifts for 2021. Are you ready to check it out?
Without further ado, let's dive straight in. 
#1 Rocketbook Holiday Bundle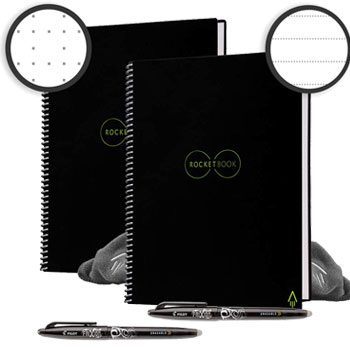 What's a better Christmas gift for your tech-savvy friend than a notebook that will last for eternity—literally? It's a total game-changer. This bundle includes 2 reusable notebooks, in both lined and doted versions, that you can write and rewrite on endlessly. Also included are 2 pens and 2 microfiber cloths. You can use the pens to write on any other type of book. When it comes to erasing the contents in your notebook, you'll only need to dampen the microfiber cloths with water and wipe away your writings. That's not all. Use the free Rocketbook app for Android and iOS to backup your handwritten notes to cloud services such as dropbox, google drive, and email. 
---
#2 SanDisk ibi Smart Photo Manager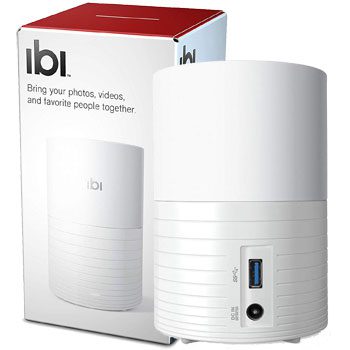 Here is an easy and fun gadget to manage all your photos and videos. This wireless photo manager lets you collect, back up, organize, and privately share photos with your close friends and family. You can collect your photos from across all social media platforms and cloud accounts of choice. On top of that, you'll get a whopping 1 terabyte of free storage space. It's easy to use, and organizing your photos is quick and simple. You can as well invite a person or people to add photos to a shared album for lasting memories of your vacation, wedding, or any other event. The 'inner circle' is a private space where you can share pictures and videos with those in your inner circle. You can also stream these videos and photos to your TV for all to see using Roku, Fire TV, etc. This gadget is easy to set up. However, it is only compatible with networks and services in the US. 
---
#3 Upright GO 2 New Posture Trainer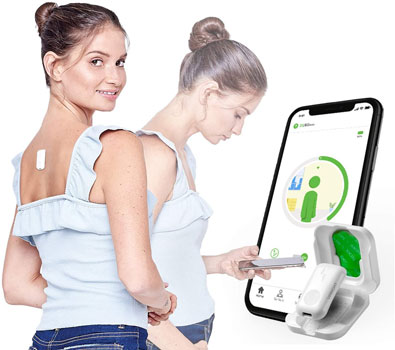 Do you have a close bestie who is always mindful of their health and body wellness? Consider getting them the Upright GO 2 new posture trainer. Maintaining the right posture not only portrays a confident person but it also has a tone of health benefits. Studies show that the right sitting and standing postures minimizes stress and boosts productivity. When you use this trainer to improve and track your posture, you'll notice results in two weeks.
---
#4 Echo Show 8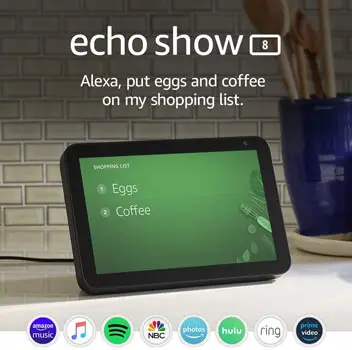 This all-in-one tech gadget is a perfect gift for any person who loves listening to music. It has an eight-inch HD screen that displays excellent images. And its sound quality is impressive. The Echo Show 8 is compatible with Alexa. Thus, you can simply ask Alexa to show you movies, TV shows, or news. You can also listen to audiobooks, podcasts, and your favorite stations. On top of that, you can also connect it with video calling and messaging to other friends and family members who have the echo device or Alexa app. You can use your voice to monitor and control compatible lights, cameras, etc. To help protect your privacy, you can shut the mic and camera by a simple press of an intuitively placed button. You can also delete all your recordings easily. 
---
#5 WOpet Smart Pet Camera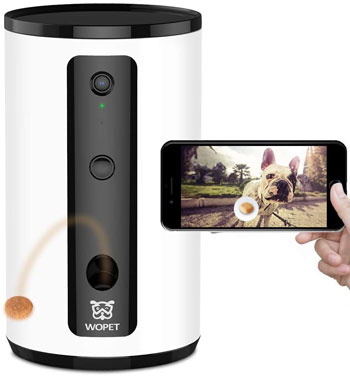 Searching for the perfect tech gift ideas for your friend whose only other friend is their furry pal? Look no more. With the WOpet Smart Pet Camera, you can leave the house in peace knowing that your pets will not get bored. The product will keep your pet busy playing all day. And, you can monitor the pets despite your location. It is durable and easy to use. Use the auto play option to create new and exciting experiences for your pet as needed.
---
#6 Flyby F1Pro Massage Gun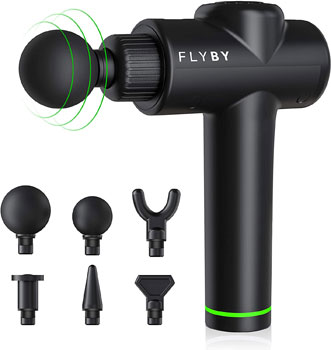 Do you have a friend who is always complaining of tense shoulders or who is mostly engaged in stressful gigs? Here is the perfect therapeutic solution to their daily fatigue. The Flyby F1Pro massage gun is a lightweight, portable, and quiet tool that you can use on the go. Its intensity is adjustable. There are three different speed levels for you to choose from. Its battery is rechargeable and can last for up to 4+ hours. Plus, this massage gun is also extremely easy to use. 
---
#7 Oculus Quest All-in-One VR Gaming Headset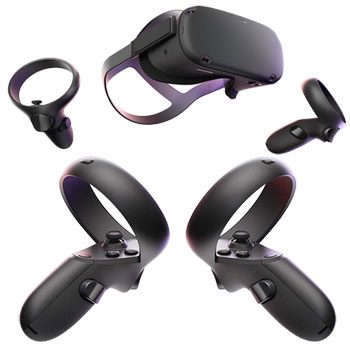 If you are searching for a perfect electronic gift for a gaming enthusiast, this is a great pick. It is an all-in-one VR gaming headset. It allows one to play without requiring any external accessories. Additionally, the touch controllers are accurate which makes every game feel as real as possible. The setup process is a breeze and you can start playing almost immediately. Whether you prefer to play standing or seating, this VR gaming headset is versatile enough to allow it all. 
---
#8 ECOVACS DEEBOT 661 Mopping Robotic Vacuum Cleaner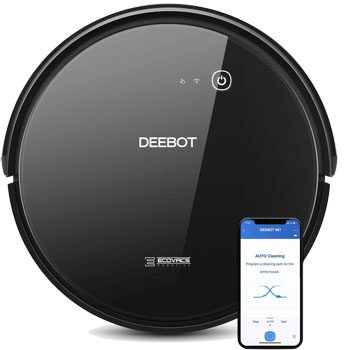 Every smart home needs a smart cleaning solution. The ECOVACS DEEBOT 661 is the ultimate solution. It is a 2-in-one vacuum cleaner that is very convenient for both vacuuming and mopping. Its battery life is decent with a runtime of up to 110 minutes. And, it cleans any space flawlessly while suctioning all the dirt and hairs. The suction power of the vacuum cleaner can be increased to 2 times the normal rate for bothersome dirt spots. What's more, it has an auto-return charging feature that prompts it to go to the charging deck each time low power is detected. Thus, it will always be fully charged and ready for use. With a height of 3.1 inches, this robot is small enough to clean hidden areas under furniture. It is also equipped with clever sensors to detect obstacles and texture of the surface for safe cleaning. You can control it using Alexa or an app on your mobile phone. 
---
#9 Ninja Foodi 5-in-1 Indoor Grill with Air Fryer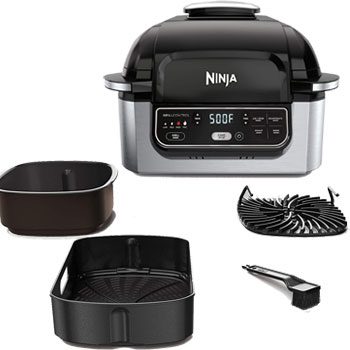 Searching for a perfect gift for your foodie friend? This 5-in-1 indoor grill is a perfect choice. It is designed to bring the experience of grilled food right on your kitchen countertop all year-round. The outcome is lovely and within a short time. You can use it for defrosting as well as air frying crisp. It is easy to use and the smoke levels are near zero. It is extremely quick and can prepare steak in just 11 minutes.
---
#10 All New Sonos Move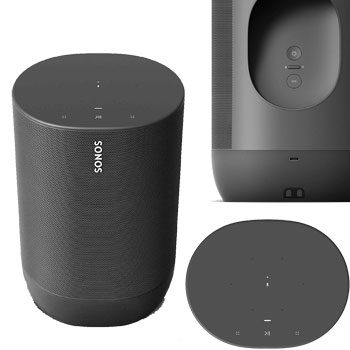 How about a device that allows you to play crisp and clear music on the go? The Sonos smart speaker gives an awesome indoor and outdoor listening experience. It is Bluetooth and WIFI enabled and has Alexa built-in. It is also easy to set up and control. You can control it using the Sonos app on your phone, AirPlay 2, or simply instruct Alexa through the device. Its battery life is impressive and can last for up to 10 hours. And besides, it is weatherproof with an IP56 rating. Because it's well made, it is guaranteed to last for years.
---
#11 CYBERPOWERPC Gamer Xtreme VR Gaming PC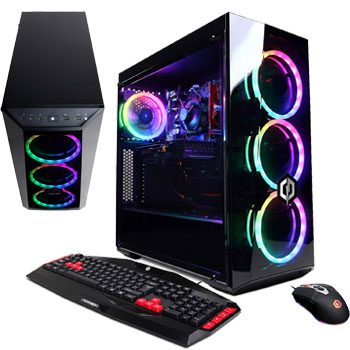 Want to surprise any avid gamer with one of the best gaming PCs in the market? This PC offers absolute value for its price tag. With Intel core i5-9400F and 2.9GHz, you can play heavy games with ease. On top of that, it has 8GB DDR44, 240GB SSD, and 1TB hard drive. Thus, you'll have enough space to store all your videos. And with a NIVIDIA GeForce GTX 1660 6GB video card, you can rest assured that all the graphics in all your games are excellent. The colors of the gaming mouse and casing can be customized to accentuate the gaming mood.
---
#12 Razer Kraken Kitty Gaming Headset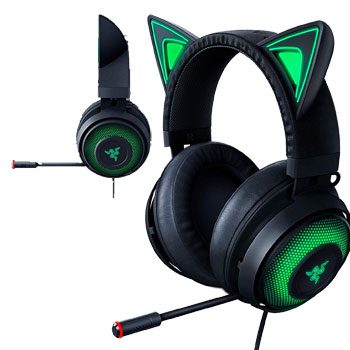 Every gamer, whether casual or expert, needs a pair of the best gaming headset. That's why a top-quality gaming headset is a gift that every gamer would highly appreciate. With the Razer Kraken Kitty gaming headset, you are assured of a listening experience that matches real interactions. The headsets are comfy and thus can be worn for long gaming hours. Additionally, they have a noise cancelation mic that is ideal for real-time communication. 
---
#13 Bartesian Premium Cocktail and Margarita Machine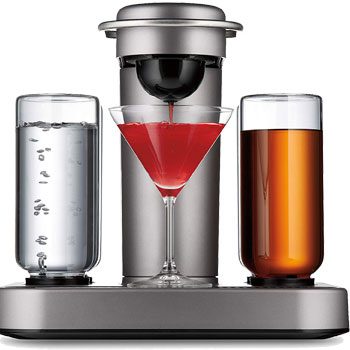 This is an easy-to-use machine that allows you to quickly make cocktails at home, to your desired concentration. Every Bartesian capsule has a perfect mix of all the ingredients required to make a premium quality cocktail. The convenience of this machine is hard to argue. It not only saves you time but you are also assured of a great tasting cocktail (minus the messy process of mixing it). It is also super easy to set up. 
---
#14 Fitbit Versa 2 Smartwatch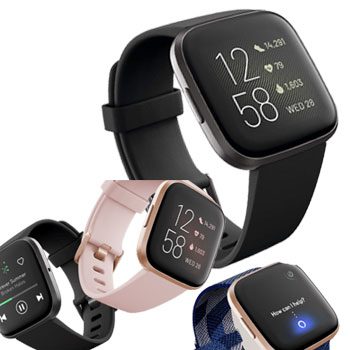 The Fitbit Versa 2 Smartwatch keeps you up-to-date with real-time news and weather updates. You can also use it to set timers and alarms. You can also control it hands free. You'll only need to instruct Alexa what you want to be done, and it will be done in a split second. The Smartwatch uses data collected on your heart rate, restlessness level, and duration of sleep to give you a sleep score. The sleep score gives you a better understanding of your sleep patterns. The Smartwatch can also perform other functions such as monitoring your heart rate, the number of calories burnt, steps walked, floors climbed, and more.
---
#15 DJI Mavic Mini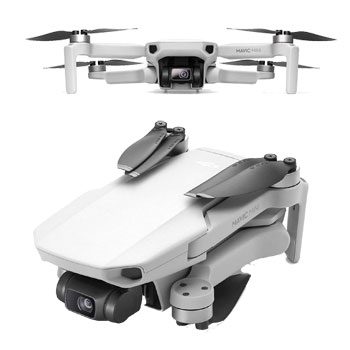 Here is an affordable drone that is perfect for any budding photographer. It is very light (less than 250grams) and highly portable. It has a decent battery life which is better than most other drones the same size. It can stay in the air for up to 30 minutes.
---
#16 BlissLights Sky Lite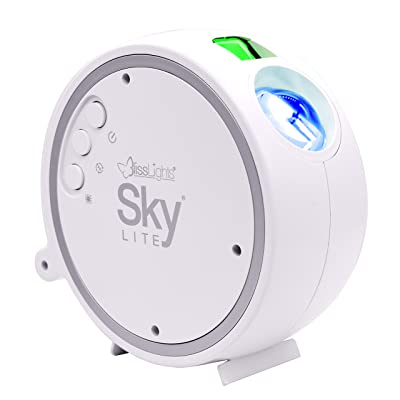 Whether you are searching for a gift for a kid or an adult, this is an ideal choice. It projects soothing blue lights with beautiful drifting stars. You can use it as a night light in your child's room or a colored light to set the mood in your gaming theatre. Its brightness is adjustable and you can also stop the drifting stars. Controlling it is flawless which makes it a perfect gift for kids too.
---
#17 Wellue O2Ring Wearable Sleep Monitor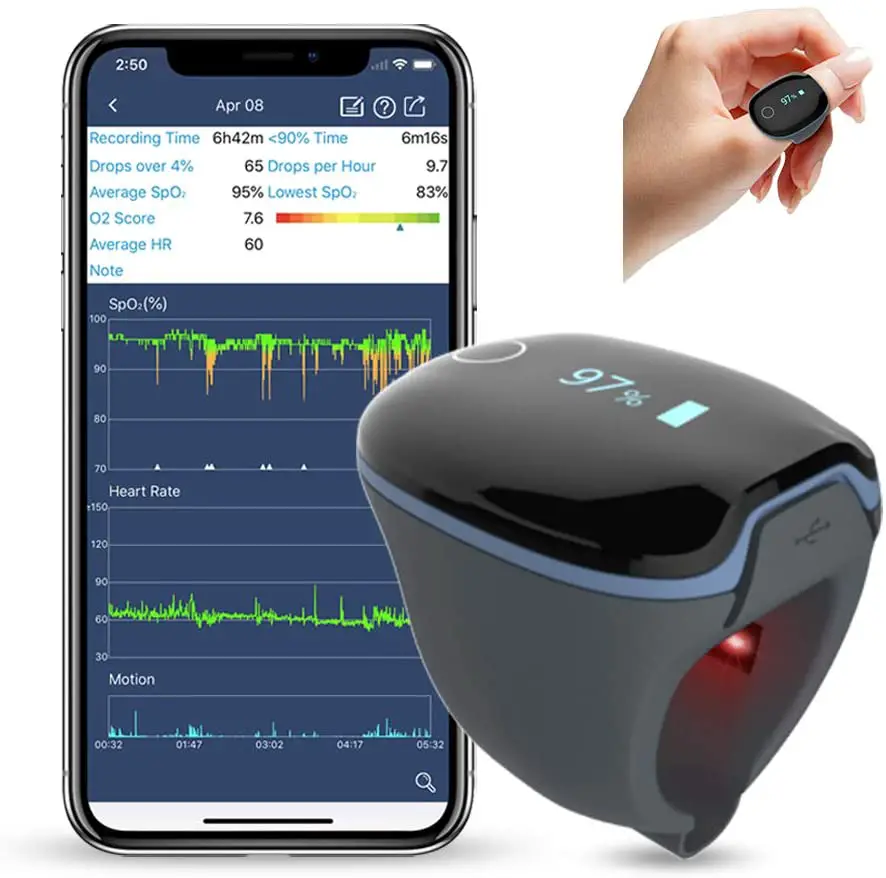 Now you can monitor your sleep patterns, oxygen levels, and heart rate using a comfortable and adjustable oxygen sensor. It fits most fingers well and offers a detailed professional graphic representation of blood level, sleep, and motion changes. You will also get a notification in case the level of oxygen in the blood drops too low. And, it only needs 2 hours to fully charge. The charge can last for up to 16 hours. 
---
#18 Samsung QN65LS03TAFXZA 65-inch FRAME QLED 4K Smart TV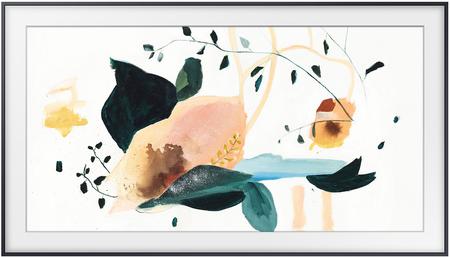 Want an upgrade to your current TV? Consider this recent model by Samsung. It features a 65-inch flat-screen with 4K UHD that provides limitless color options for a crisp and detailed viewing experience. It is also compatible with Alexa and can be controlled using your voice. Also included is a remote control that controls all compatible devices.
---
#19 Apple AirPods Pro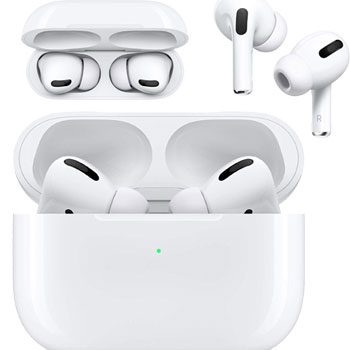 The Apple Airpods Pro is one of the most recent releases by Apple. They provide excellent noise cancellation, fit perfectly, and are sweat and water-resistant. On top of that, they have an adaptive EQ that channels sound to the shape of your ears for a flawless listening experience. They are also very easy to set up for all your Apple devices. 
---
#20 GoPro Max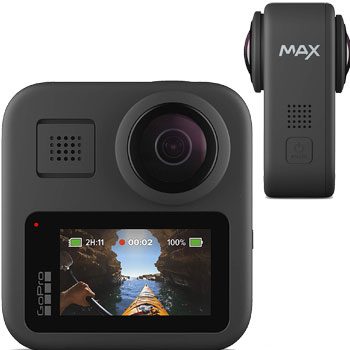 Looking for a perfect gift for a budding vlogger? This camera is a great choice. It has both a front-facing and back-facing camera making it ideal for vlogging. It has a video resolution of 16.6M and an image resolution of 1080P. Thus, you can be certain that all your images and videos are clear and their quality is decent. The stability is impressive and the shotgun mics ensure your videos have top quality audio. This camera also supports touch screen operation. And, editing videos is a breeze.
---
Top Tech Gifts Under $50
Here is a list of the top 10 tech gift ideas under $50.
#21 Tile Slim (2020)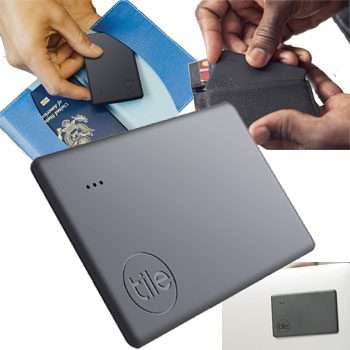 You and I both know how devastating it can be to misplace your cards or phone when you need them the most. Luckily, tile slim has come to save the situation. You can now ring your things to find them. Tile is slim enough to fit in your wallet or cardholder. Whenever you misplace your purse or cards, simply ring your tile. Also, on days when you cannot remember where you left your phone, just press the Tile button on your tile twice. Your phone will automatically ring, even when set on silent mode. But, you need to be within a 200ft Bluetooth radius. 
---
#22 Roku Streaming Stick+ 4K HDR Streaming Player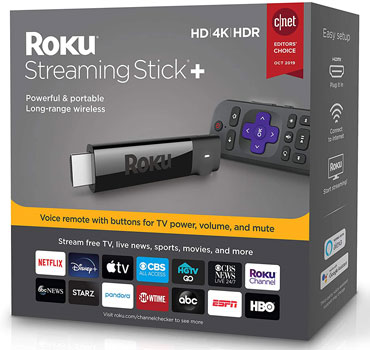 Roku Streaming Stick+ provides an easy way to stream entertainment to your TV. You can stream free TV, movies, news, and more. Setting it up is extremely easy. Also included is a voice remote that can control the power and volume buttons of your TV. Thus, you won't need to keep on changing remotes. And since everyone loves entertainment, the Roku streaming Player is an ideal Christmas gift.
---
#23 Novostella 13W 1300LM Smart LED Light Bulbs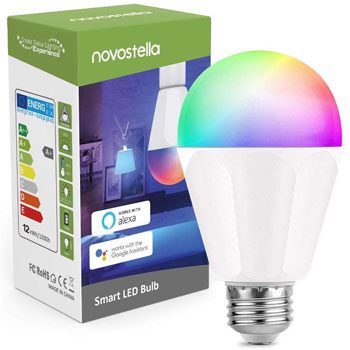 The Novostella Smart bulb is a fun addition to your home. It does not need any hub to function. You'll only require 2.4GHz WIFI to control it through the Smart Life app on your phone. The bulb is dimmable and can be operated remotely. Because it is compatible with Alexa, you can use voice control to switch it on and off, to dim it, or to change color. There are a whopping 16 million dimmable colors and 8 different scenes to choose from.
---
#24 JBL GO2 Portable Bluetooth Speaker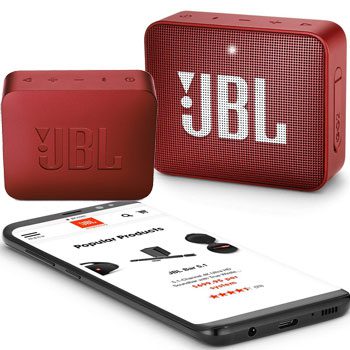 JBL is well known for producing top-quality speakers. Similarly, this portable Bluetooth speaker does not disappoint. It is small enough to carry around and its battery life is decent. It can last for up to 5 hours. The speaker is also very compact and can fit in the palm of your hand, or your handbag. But despite its small size, its music quality is impressive. Both the bass and high frequencies are excellent for the price tag. It is also waterproof with a weather resistance rating of IPX7.
---
#25 Mpow EG3 Pro Gaming Headset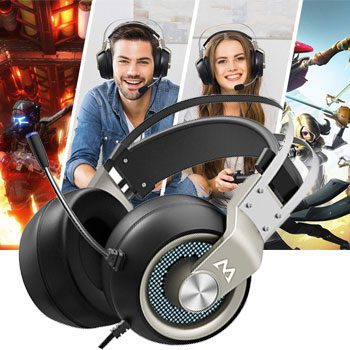 If you are looking for a pair of affordable yet functional gaming headphones, the Mpow EG3 Pro Gaming Headsets are worth considering. They produce impressive bass and top-notch sound quality. Because they are designed for gaming, they are capable of picking and amplifying even the tiniest sounds. This headset is compatible with Mac, PC, PS4, new Xbox one controller, and Nintendo 64 using a 3.5mm jack. Its mic is also designed for noise cancellation with quality sound output. It is also comfortable with padded ear cushions and has an adjustable headband for a perfect custom fit. 
---
#26 ICEWATER 3-in-1 Smart Water Bottle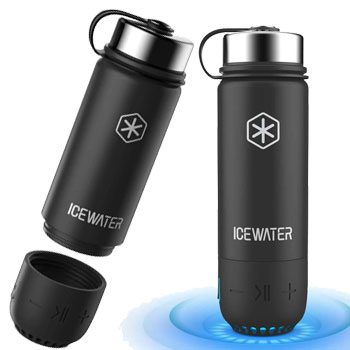 Here is another freaking cool and fun Christmas gift idea for your loved one. The 3 in 1 smart water bottle glows to remind you that it's time to take some water. On top of that, it has a Bluetooth speaker. Yes, you heard me right. You can listen to music from your water bottle. Water, coffee, or tea stored in the bottle will remain hot for 12 hours and cold for 24 hours. The bottle is easy to carry and is made from durable stainless steel. 
---
#27 NETVUE Dog Camera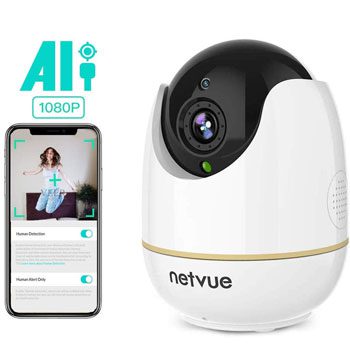 The NETVUE dog camera is a must-have item for every dog owner. It is perfect for monitoring your dogs when you are away. Installing it is easy and set up is a breeze. It can also double up as a baby monitor to remotely watch your baby in its crib. In case the camera's motion sensors detect any motion, the Smart clip begins to record immediately. But, when a human being is detected you will be alerted promptly. It is also compatible with Alexa and features a crisp two way audio for easy communication with those who are back at home.
---
#28 Giiker Electronic Speed Cube i3S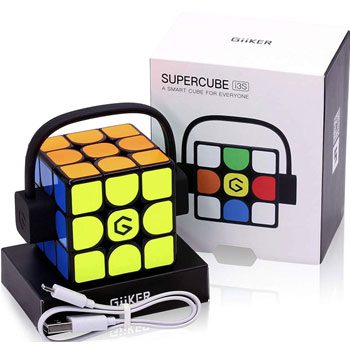 The speed cube is an ideal gift for people who love to solve puzzles. It has built-in tutorials for amateurs and intermediate players. Additionally, you will improve your speed from the tips and timing solves included. The cube has Bluetooth sensors that allow you to track your moves while solving the puzzle. You'll only need to sync it to an app on your smartphone. 
---
#29 Mini Spy Camera 1080P Hidden Camera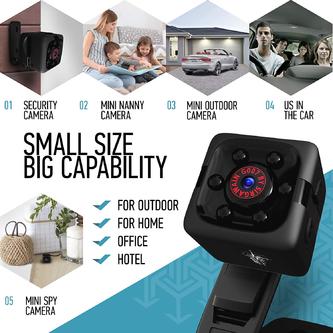 This is a mini spy camera that can be used as a nanny camera, security camera, or pet camera. It is so small (the size of a thumb) that people can hardly notice they are being watched. It has a magnet on the backside for easy mounting on any metal surface. Its installation is a breeze. However, do not let its size fool you. It takes impressively clear videos at HD resolution of 1920*1080P. And, it can support a microSD card of up to 32GB. The inbuilt battery runs for up to 60 minutes while you can also plug it into a charging port if you need 24/7 surveillance.
---
#30 Hercules Tuff Charging Station for Multiple Devices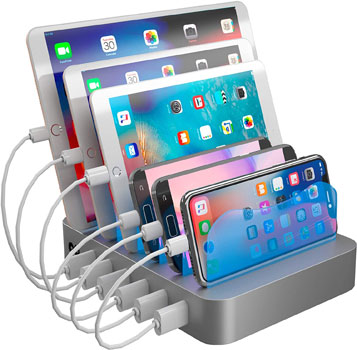 The last entry on the list of the top tech gifts under $50 is this affordable USB universal charging system. It has 6 charging cables and four charging ports that can be used for directly charging. Besides, the station is designed to hold all your gadgets when they are being charged. This means you'll get a table organizer and charger in one device. You can charge any devices whether android or ios and even tablets and power banks. It is also compact and well made.
---
Top Tech Gifts Under $100
Read on for ideas on top gift for techies under $100.
#31 Polaroid Hi-Print Pocket Photo Printer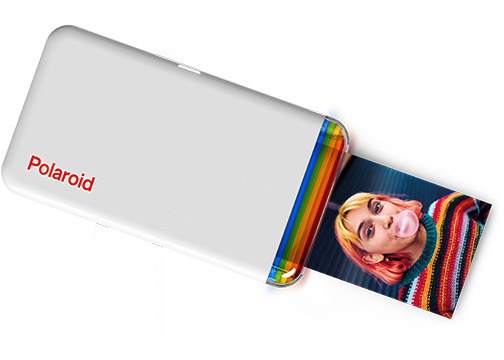 The Polaroid Hi-Print Pocket Photo Printer is a convenient and practical photo printing solution. It is a perfect gift for anyone during this festive season. You can use it to print top-quality full-color photos anywhere at any time from your Android or iOs phone. The printer is Bluetooth enabled. Thus, you can share photos from your phone without the need for cables. And if you download the Polaroid app, you'll gain access to numerous photo editing features. 
---
#32 PhoneSoap 3 UV Smartphone Sanitizer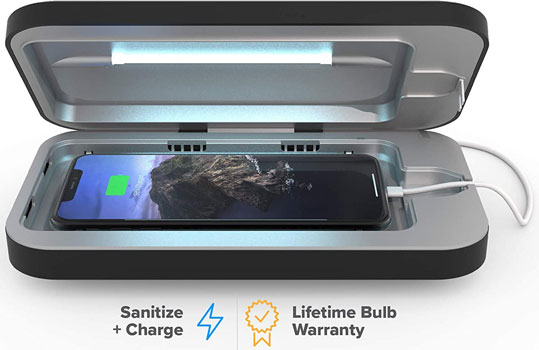 Research shows that an average cell phone is more than 10 times dirtier than most toilet bowls. Thus, this smartphone sanitizer would come in handy for anyone who owns a cell phone. Well, who doesn't? The sanitizer is clinically proven to kill 99.99% of the germs on your phone. That's not all. The Phone Soap is designed to fit phones of all sizes including larger phones. You can also use it to sanitize anything that can fit (such as your keys.) It is powered by an internal battery that can double up as a power bank for your phone. Also, it comes with a traveling case to keep it safe when not in use.
---
#33 Sega Genesis Mini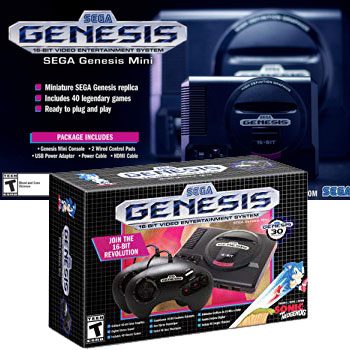 Next is a gaming unit that is a perfect gift for all gamers. If you were playing games in the 90s, be ready for some nostalgia from this classic. The Sega Genesis mini is a plug and play ready with a whopping 42 games. It works flawlessly and has a user-friendly interface. The controllers are also superb. You can select to play a new game using the controller, no need for manual selection on the console.
---
#34 Blue Snowball iCE USB Mic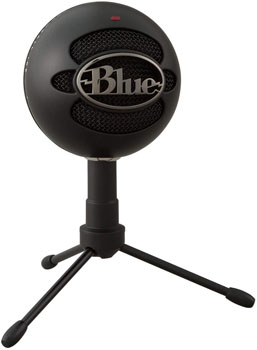 The Blue Snowball iCE is a portable USB mic that is ideal for vlogging, Skype Calls, interactions during live game streaming, podcasting, music, and more. It is a plug and play device that is compatible with Mac and PC. The microphone has a perfectly-sized adjustable stand and it comes in two colors. Overall, its performance is better than others in the same class.
---
#35 Sony SRS-XB12 Portable Bluetooth Speaker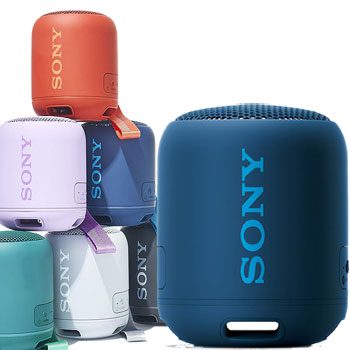 If you want a Bluetooth speaker with extra bass and better sound quality than the JBL portable Bluetooth speaker (mentioned above), be ready to add in a few more dollars. A great option is this top-rated portable Bluetooth speaker by Sony. It is dustproof and water-resistant with a weather resistance rating of IP67. Its battery life is also outstanding. You can enjoy up to 16 hours of uninterrupted music when fully charged. The sound quality is perfect. What's more, you can even add an extra speaker for a better listening experience. The performance of this cute little bass speaker is worth every extra dollar.
---
#36 Lume Cube 2.0 – Daylight Balanced LED Light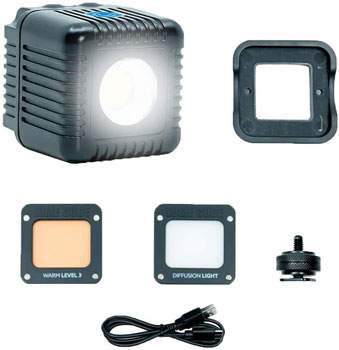 The Lume Cube 2.0 is a compact yet functional lighting solution for all the lighting needs of a video content creator. It is specially designed with top-notch lenses to give the best quality of light possible regardless of the conditions. The built-in magnet on the back of the cube allows easy and versatile mounting options. Additionally, it is waterproof, compact, portable, and well made. It is easy to use, easy to charge, and its light output is impressive. 
---
#37 Fujifilm Instax Mini Link Smartphone Printer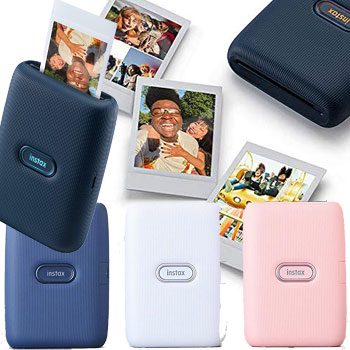 Another premium smartphone printer is the Fujifilm Instax printer. It has built-in Bluetooth for easy transfer of photos from your Smartphone. It has a quick printing speed of approximately 12 seconds. Additionally, it is extremely easy to use. That's not all. You can preview your images before printing. This smartphone printer is perfect for kids and adults alike. It is a perfect way to physically store away memorable moments during this festive season.
---
#38 BESHENG Portable Bluetooth Handheld Lable Printer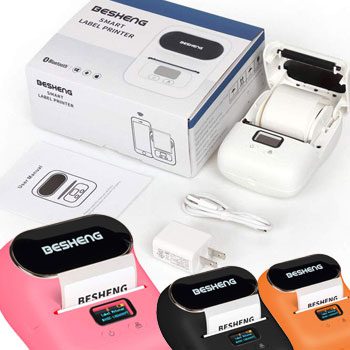 It is ideal for use either by individuals or large organizations such as schools. It can be used to print barcodes, dates, pictures, and other small-sized labels. When fully charged, the BESHENG portable label printer can provide up to five hours of continuous printing. Its cost of operation is low which makes it a cheaper alternative for any organization. The labels are made of premium quality scratch-proof material that doesn't fade. They are also water-resistant, oil proof, and can last up to 20 years when stored properly. 
---
#39 Dragon Touch 10 inch Tablet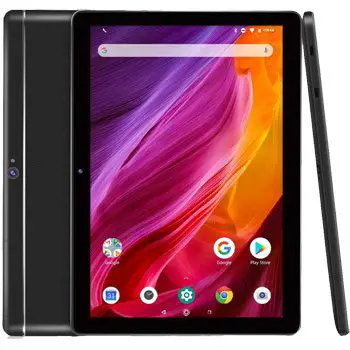 The Dragon tablet has a large 10 inch HD display with an image resolution of 1280&800P. It runs on Android 8.1 OS. The screen size makes it ideal for playing games, watching videos, or browsing online. The tablet comes with 12GB internal storage that is expandable to up to 128GB through an external micro SD card. But, the 12GB storage is enough for storing all your necessities and a few games on your tab. If you are looking for cheap gifts for techies, consider this tab! ­
---
#40 DBPOWER 3500 Lux Mini Projector
The last entry on this list of top 40 tech gifts for Christmas 2021 is the DBPOWER 3500Lux video projector. This mini projector produces commendable brightness and its performance is amazing. It supports video resolution of up to 1920*1080P and displays images between 32 and 170 inches at a projection distance of 1 to 5 meters. All projections are crisp and clean. This portable smartphone phone projector is compatible with a wide range of devices including, smartphones, tablets, speakers, laptops, TVs, android and IOs phones, and more.
---
In Conclusion
As seen above, there are numerous tech gadgets gift options available. Some are perfect for music lovers; others are best for gaming enthusiasts, while others are best for kids. There is something for everyone. 
Hopefully, this article comes in handy in your search for the best electronic gift ideas 2021. Happy shopping!