Give Your Kids an Edge in Today's Tech World by getting The Best Tech Toys 2019
In today's fast-paced tech world, toys are not only made to distract kids and pass time. Manufacturers are incorporating various technological aspects that benefit the little ones in multiple ways. These help children learn new skills, visualizing matter that the naked eye cannot see naturally, and get a head start into loving STEM (science, technology, engineering, and mathematics), amongst others. Because there are different options available in the market, we opted to make a list of the 10 best tech toys 2019 below. 
1. Nintendo Switch Lite (Gray, Yellow, and Turquoise)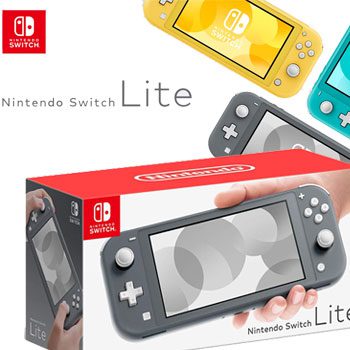 Nintendo Switch Lite is a fresh version of the Nintendo Switch system that kids will go crazy for. It has been optimized for handheld play complete with a unibody design and an in-built control pad. The Switch Lite is light and small perfect gaming on the go. There is no chance of getting bored thanks to the fact that it is compatible with numerous Nintendo switch games. Kids can also link their Nintendo Switch Lite and Nintendo Switch to play multiplayer games anywhere. It also features a news feed that allows users to get the latest announcements, updates, and other news. 
---
2. Sphero Specdrums 2 Rings 
No toy collection is complete without the SpheroSpecdrums. The toy made with sleek technology includes LEDs, light sensor, accelerometer, and Bluetooth Low Energy connectivity. Kids get to work with a MIX app that offers readily available sound packs that make it possible for the young ones to produce and mix songs with just a tap of the finger. You can also connect the Specdrums to other music software that accept Bluetooth MIDI. All kids regardless of their skill level will enjoy this toy as they play around with tons of music instruments, sounds, and loops to create musical masterpieces. 
---
3. Really Rad Robots TURBO BOT 
Suitable for kids between the ages of 5-15, the Turbo Bot is a fast-moving and talking bot. It appeals to children who love speed. Its remote control features a "Turbo Boost" switch that sets the bot in rapid motion. The fact that a person can use voice commands to control the bot makes it even more fascinating. His voice command system also allows it to respond to its users. The bot can record a message for 10 seconds and play it back. It also boasts of "Crash Recognition" that allows it to change direction to stay out of trouble. 
---
4. VankyoMatrixPad Z1 Kids Tablet 7 inch (Blue and Pink)
This Vankyo kid tablet is a great pick for anyone looking for brilliant tech gifts. It is pre-loaded with COPPA Certified Kid App Kidoz offering plenty of videos, games, kid-friendly sites, paintings, and educational applications. This helps enhance your child's skills in different areas like reading, maths, creative arts, puzzles, music, and so much more. Additionally, manufacturers fitted the tablet with Eye Health mode that filters blue light and a bumper that not only has an in-built stand, but it is shock-resistant as well. Most importantly it has advanced parental control that allows parents to create and customize their children's accounts.  
---
5. VTechKidi Star Dance 
Do your kids love dancing? Well, the VTechKidi Star Dance toy is just what they need. It is a unique toy that offers multiple games, allows kids to dance music, and learn new moves. It presents tantalizing dance challenges for kids to play alone or with their friends. The young ones can strap on motion-activated bands to challenge their pals to a dance-off or play games like Rhythm and DJ station. An animated instructor is available when users want to learn new dance movies. The bands can also be used to create different sound effects to music. 
---
6. Novie Robot (Blue, Purple, and Red)
Do not judge the Novie for its small size. It's a smart and interactive robot that can follow commands to perform over 75 actions as it learns new tricks. It follows hand gestures easily practicing perfecting every move it learns. There are many things to love about this robot including more than 60 animations and 3 motor speeds that allow kids to train him in 3 stages from beginner, intermediate, and finally advanced. The robot's LED eyes also change color depending on the mode. Friends can also bring their Novies together to see how they play and interact with each other. 
---
7. LeapFrogLeapStart Go System 
Kick-start your little one's education with the LeapStart Go InteractiveLearning System. It's perfect for pre-school kids to the first grade. The stylus that is attractive and easy to hold triggers audio and video responses on the LCD screen with in-built speakers. Video effects allow the young ones to zoom in as they discover and interact with different learning concepts. Most activities are available in 2 levels so that users can advance when they want to. There are more than 400 activities in the Grow-with-me-library that cover all three school levels with over 50 skills for each. 
---
8. LEGO Hidden Side Paranormal Intercept Bus 3000 (70423)
LEGO lovers are in for a treat with the LEGO Hidden Side Paranormal Intercept Bus. This is one of the tech toys for kids that has merged open creative play and AR (Augmented Reality) app. Excellent for both girls and boys who are above the age of 8, it comes with a command center, cannons, scanners, and mini-figures that are all instrumental in building and ghost adventure play. The AR toy also features 6 figures that make up the task force for kids as they go out to capture ghosts. Scanning the LEGO model using a smartphone instantly brings it to life. 
---
9. Osmo Little Genius Starter Kit for iPad 
There is no better way for preschool kids to hone creativity and problem-solving skills than to use the Osmo Little Genius Starter Kit. It presents learning games that interact with an iPad and handheld pieces without using WiFi. It teaches the young scholars phonics, letter formation, and the creation of pictures in a fun-filled manner. This kit also allows the little ones to use rings & sticks to bring animals to life or feed and dress characters as well as narrate problem-solving stories. It makes things a lot easier in terms of tracking game progress and allowing learning continuation. 
---
10. Kano Star Wars The Force Coding Kit 
The Force Coding Kit will instantly grab the attention of your children allowing them to create, code, and play never-ending Star Wars Adventures. The box avails sensors that players use to connect bits, boards, and buttons. It also presents challenges that teach users to code blocks as they learn about variables, loops, and logic. This is not all, players also get a chance to discover the force. Moving the hand allows a person to pilot starships, levitate X-wings, swing lightsabers, and lots more. Users can also come up with their adventures with planets, creatures, sounds, and iconic characters, etc. 
Conclusion 
The list above gives parents and guardians several options for age-appropriate top-rated tech gifts. These are toys that the little ones will treasure for years while learning lots of new things.