Top 10 Best Christmas Toys 2017 – Hot Christmas Gifts 2017
Hot Christmas Toys 2017, The Christmas bells are ringing and your kids are counting down to getting their new set of Christmas toys. Shopping for Christmas gifts for kids can be quite the task, because you want to see their eyes light up when they open their gifts. We have made it easier to shop for your kids Christmas gifts by compiling a list of the best Christmas gifts 2017.
Yeti in My Spaghetti Game
Who doesn't love a silly game that the whole family can take part in playing? Well if you are looking for such a game, Yeti in My Spaghetti is the game to get.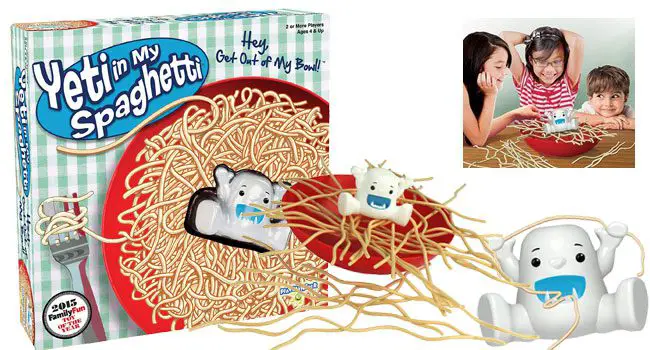 The game features, you guessed it, Yeti, 30 Noodles strings and a Bowl. Stack up the spaghetti in the bowl, place Yeti on top and see how many noodles you can remove without yeti failing. Anyone number of players can take part in this game and play it as well, from your 4 year old and including your grandma!
---
FurReal Friends Torch, My Blazin' Dragon
If your child wants a pet but you don't think they are quite ready for the responsibility, then teach them the responsibility of taking care of a pet by getting them the FurReal Friends Torch Blazin Dragon.
This cute dragon makes more than 50 motions and sounds in response to touch. It comes with color-changing treats, water filler and crystals as well as an instructions manual. Feed it a change treat and watch as its color changes. It wouldn't be a dragon if it couldn't 'breathe fire,' but in this case the cute dragon breathes color mist and burps when its tank is filled up with water.
---
Critical Cycles Cub No-Pedal Balance Bike
Has your little one been bugging you to get them a bike? Then the Critical Cycles Cub No-Pedal Balance Bike is what they need.
This bike comes without peddles with the aim of building their confidence when it comes to coordination and balance. Your child uses the foot-on-floor model to propel them forward when using the bike, and this reduced common injuries that come with training wheels and tricycles. This is a worry-free and maintenance-free bicycle, coming with airless tires and with minimal assembly required.
---
Seedling DIY Virtual Reality Viewer
Kids are very creative and the Seedling DIY Virtual Reality Viewer will help them literally transform the world into their personal canvas!
This is a set that allows kids to create their personalized virtual reality viewers. It comes with stencils, construction paper and paints among other accessories. Using the provided tools, kids built their own mazes and using smartphones they customize it further adding challenges to the game. Everyone will enjoy this virtual reality game.
---
DC Super Hero Girls 12″ Action Dolls
Every parent wants to be their kid's hero and you definitely will be by getting them the DC Superhero Girl 12″ Action Dolls.
The actual DC super heroes inspire the dolls and each doll comes in a 12" package of sheer super hero fun. The great part about it is that the dolls come fashioned in costumes inspired by the original super heroes. The dolls come with articulation enabling flexible movement. Help your kid build their super hero collection by getting them the Harley Quinn, Wonder Woman, Batgirl, Supergirl, Poison Ivy and Bumble Bee dolls.
---
Minecraft Stop Motion Movie Creator
Help your kids direct their own animated movies with the Minecraft Stop Motion Movie Creator.
The set comes with 4 mini Lego figures including the Flames Zombie and Zombie, Spider Jockey and Exclusive Alex. The set also features a movie stage, tablet/phone holder, 4 backgrounds and props. Create animated movies by arranging the characters in different scenes with different props, take photos using your phone/tablet and edit the sequences using the Minecraft app.
---
LEGO Star Wars 75153 "AT-ST Walker"
Bring a little Star Wars into your home this Christmas with the Lego Star Wars 75153 "AT-ST Walker."
The set features an AT-ST Walker with posable legs, wheel-activated rotation for the top section, opening cockpit/hatch, 3 mini figures including a driver, a detailed mini figure interior. Some of the accessories accompanying the set include trooper weapons such as blaster pistols and a Rebel Trooper helmet.
---
3Doodler Create 3D Pen With 50 Plastic Strands (Smoky Blue, Spring Green, Shocking Pink, Sapphire Blue & Electric Yellow)
The 3Doodler 3D Pen is one of those pens your kids will love using, because it allows them to come up with creative 3D creations.
This is a product from 3Doodler the makers of the highly renowned 3D printing pen, and it is designed to transform doodling, as we know it. It is the perfect pen for DIY, fine arts, marker and decorative projects, and scale model creation. The set comes with a selection of plastics for different projects including Flexy, Matte, Sparkle, Glossy, Clear and Glow. It also comes with diverse accessories including changeable Nozzle heads, a portable JetPack and a project book including 26 unique projects.
---
Simon Air Game
The Simon Game is one of those classic memory games you definitely want to introduce to your children but with a modern twist.
The Simon Air Game uses touch-free motion technology, with the game unit sensing the motions made by a player. It comes in a wheel-design with 4 cool lights and you can play it solo or with a friend for added fun. The game comes with an instruction manual to get you started, and you are guaranteed that this is a game you'll join in to play with your kids.
---
Nerf Lazer Tag Phoenix LTX Tagger
Who doesn't love laser tag? Bring the action to your home with the Nerf Lazer Tag Phoenix LTX 2-pack set.
The set features 2 Phoenix taggers accompanied by a 2-player system, with taggers getting hits in the form of lights, vibrations and sounds. It also comes with a recoil feature that engages after shots are fired and a rumble pack to let you know if you are hit. The coolest part is that when the magazine runs out of ammo, you'll have to pop it open and back in simulating a real life handgun.
There you go; that is our list of the top 10 best Christmas filled with Christmas toys that your kids would absolutely love this year. The best thing about it is that most of the listed Christmas gifts are products that your kids will enjoy playing with the entire family.