It can be difficult finding the right night light for your little one. They'll likely want one if they're a bit afraid of the dark, and it makes falling asleep much easier for them.However, you don't want one that's too bright or too dim, but you won't really know what level it's at until you buy it.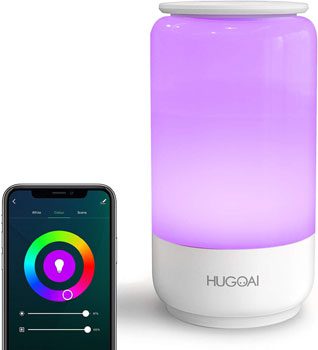 Even then, it'll stay on all night after they've fallen asleep unless you go in and unplug it or turn it off every night, only to plug it back in the following evening. For a great solution, you should look into getting a smart night light such as the HUGOAI smart table lamp.
With this lamp, you'll be able to control a ton of features straight from your phone, and you'll never have to worry about going into the kid's room and potentially waking them up.
This lamp offers plenty of features that make it an easy to use, versatile product. The first feature that you'll probably find to be the most beneficial is the brightness control. You can find the perfect balance for your child in no time at all, simply by using the slider controls in the smartphone app.

This means that you won't have to worry about buying one that's too dim, and if your child changes their mind at some point, you won't have to replace it – instead, you can just adjust it as needed.
Another interesting feature of this product is that it doesn't just use white light. You can get it to display just about any color you can imagine, because it has over 16 million different colors that you can choose from quickly by using the color wheel.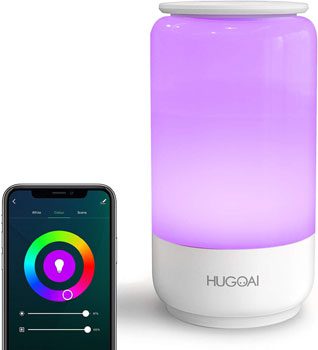 This means that if you'd prefer to give the room a certain tint with the night light, such as a baby blue, you can do so quickly and easily. You can also use schedules in order to make it quick and easy to turn it down to the right brightness for bedtime. During the day, you can have it at a standard brightness of a normal desk lamp, but you can then have it scheduled to turn down to the right level and color at whatever time you have set for the child to be going to sleep. This helps you avoid having to pull out the app every night and adjust it manually, and helps keep the brightness and color you choose consistent.