Taking a shower should be simple, easy and convenient for you. But you can run into problems where the water temperature doesn't meet your expectations and some styles of showerheads don't let the water spray evenly or without enough of a gentle force.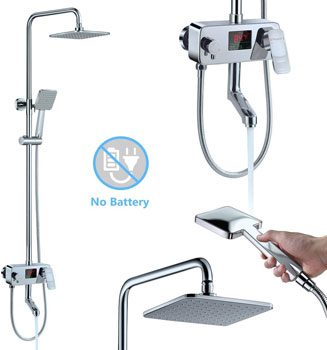 And if you have a fixed showerhead, you have to angle your body as you shower, which can lead to contorting, slipping and splashing water in places you don't want it to go – like over the top of the shower door and onto the floor.
What you can do to fix that is try getting a handheld shower head. You can also try to get your fixed showerhead moved up. Or, you could get a shower system that makes showering easier and convenient.
The Derpras Luxury Smart Shower System makes showering convenient and easy but it also makes it a luxurious experience. The height of the rain showerhead with this system is adjustable.
So if you need it to higher, you just move it. Same thing if you want it lowered. It's designed to work for your personalized comfort, not some standard mode. The 8 inch square showerhead can also rotate, s you can swing it from one side to the next.

But because the makers understood the need for having a showerhead that can angle, they gave this one the ability to tilt as you need it. If you've never used a rain showerhead, you're in for a treat.
It can be as powerful or as gentle as you like and gives you a soothing experience. It has an LED display so when you take a shower, it'll give you a reading for what the water temperature is.

This will help you find the temperature that you like the best. It'll also tell you how long the shower was on. This display controls the rain showerhead, the handheld showerhead and the tub spout.
Choosing the function that works best for you can save water, which in turn saves money. A great feature with this device is that it isn't powered by electricity or battery. Instead, it uses the flow of water to power it up.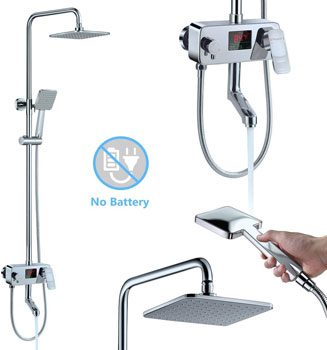 As soon as you turn on the water, the display will come on, which makes this another money saving feature with this system. A shower should be something that you look forward to relaxing in. It should be a luxurious experience. You shouldn't have to contort your body or waste money or water every time you shower. You deserve a system that gives you the spray force and the water temperature that you want. Forget the standard, one size fits all shower system and make your shower your choice.