You have a lot going on in life and the last thing you need to add to the things you have to take care of is worrying about keeping the lights off and the thermostat set high or low to save on energy so that you stay within your budget.
No one likes to get electric bills that are higher than anticipated. You want to do everything you can to save money with your thermostat. You could watch the weather every day and then make sure you set the cooling option higher in the summer and the heating option lower in the winter.
While that might make it nice in the winter to snuggle on the sofa under a warm blanket, it's a shock to your feet when you get out of bed in the middle of the night or in the morning.
You could get a thermostat that you can set with a schedule you try to remember to work around. Or, you can get a smart thermostat that uses technology to program itself around your life rather than the other way around.
The Hive Smart Thermostat is an Energy Star device that runs when you need and want it to. You can pre-select up to 6 different times that you want the heating or air on or off.You can choose a daily routine based around your morning or evening routine.

You can set it for after school or when you're away. You can even set it to heat or cool before you even get out of bed so that you're always comfortable. A great feature with this thermostat is that it's designed to work with other Hive products that make life easier.
When it notices that your home has too much humidity, it will notify your smart plug to turn on a fan. Humidity can cause mold and mildew, plus bugs love homes that have higher humidity levels.

This device can help prevent all that by watching out for the humidity levels and reacting as soon as it detects that it's too high. When someone enters a room, the sensors in the thermostat will pick up on that using motion detection.
It'll turn on the heat or the air conditioning. If you use Hive View and the thermostat detects motion, you'll get a notification on your phone. It's a great way to know when family members arrive home.
The Hive is compatible with Alexa and Google Home for easy voice activated use. You can change the temperature using your smartphone, but the device also has the easy one touch function for heating or cooling.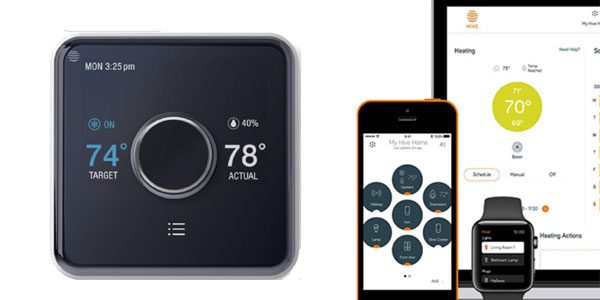 The thermostat can monitor as many as five areas in your home. These can be programmed for individual cooling or heating settings. If you leave home and forget to turn off the heat or air, the thermostat will use geolocation to help save energy and money by sending you an alert. Stop getting high electric bills and trying to compensate by suffering through higher or colder temperatures. Get the Hive to lower your energy costs instead!