Top 10 Best Gifts for Women 2017 – Hottest Gifts for Her 2017
Best Christmas Gifts for Women 2017 – What will you get that special woman in your life this Christmas? Whether it is your wife, sister, mother or grandma; shopping for Christmas gifts for women can be quite the uphill battle. However, we have your back this year with our top 10 list of gift ideas for women.
1. Nest Cam Indoor security Camera
Why not give the woman in your life as well as yourself the peace of mind they need to know that they are safe at home by getting the Nest Cam Indoor security Camera?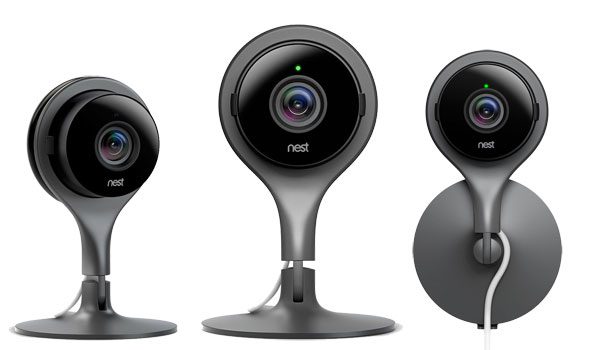 The security camera comes with a glass lens offering a 130-degree angle view and it also comes with night vision. With 1080p HD recording, the security cam offers 24/7 live coverage. Install the Nest app and get alerts of activity detected sent to you via email or phone alerts with accompanying photos.
The camera also comes with an in-built microphone and speaker, allowing you to listen and remotely speak in to get someone's attention!
---
2. Wonder Woman Character Apron
Transform that beloved cook in your life into a super hero this Christmas with the Wonder Woman Character Apron.
The women in our lives are our heroes and what better way to let them know about this than dressing them up for the part?  The apron is made using Polyester and it is machine washable. The apron will stylishly transform her into Wonder Woman as she whips up delectable meals in the kitchen or during outdoor barbecues.
---
3. Epica Personal Blender with Take-Along Bottle
The women in our lives are health conscious and what better way to help them stick to their goals by getting them the Epica Personal Blender with Take-Along Bottle?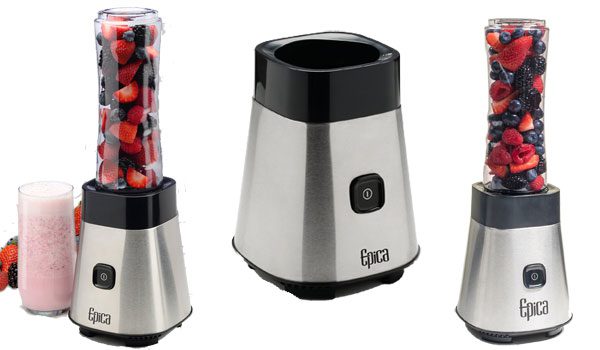 The 250-watts blender comes with a powerful 23,000-RPM motor featuring 4 heavy-duty sharp stainless steel blades. It can chop, puree, mix, whip and blend cold cocktails, smoothies and protein shakes. The 20-ounce sealable to-go mug that it comes with is the selling point of this blender.
---
4. Hana Harvest Scented Candles Premium Gift
There is nothing as relaxing as a hot bubbly bath complete with scented candles after a long day. Make her feel pampered with the Hana Harvest Scented Candles Premium Gift set.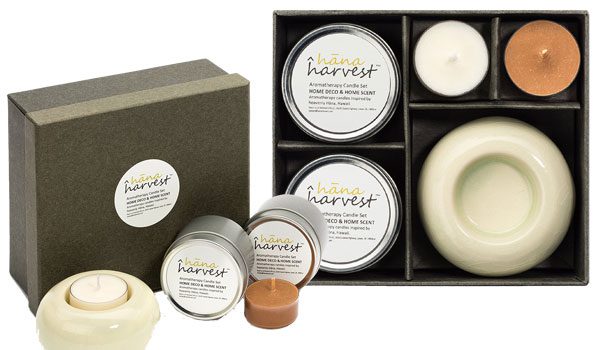 The set comes with 5 handmade candle products including a stylishly sculpted candle holder, tea- lights (Maple and Vanilla) and tin candles (Pomegranate and Jasmine scented). The candles are lead, soy and wax free.
---
5. My Audio Pet – Mini Bluetooth Wireless Speaker
Everyone loves a little music and for the women in our life, they love listening to music while cooking or taking a bath. Get them My Audio Pet – Mini Bluetooth Speaker to enable them to indulge when they want to on their favorite music.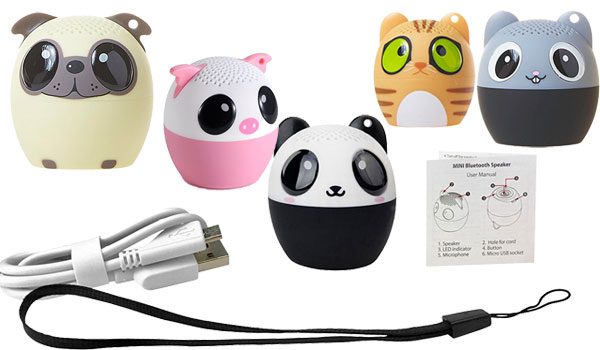 The cute audio devices come in 6 mini-animal designs including a Panda, Bear, Cat, Dog, Mouse and Pig design. It wirelessly connects to tablets, smartphones and other Bluetooth-enabled audio devices. It features an in-built microphone allowing hands-free use when needed.
The speaker connects via Bluetooth to activate the Selfie feature on cameras to take photos as well as videos.
---
6. Old Shanghai Women's Kimono Long Robe
Every woman needs a stylish robe and the Old Shanghai Woman's Kimono Long Robe is precisely what she needs.
The robe is polyester made, featuring a continuous print design with French seam finishing. It also comes with pockets, side slits, sash closures and belt loops. This is what she needs to don on a relaxing, pampering day at home or it can also function as a light wrap for one of those warm days.
---
7. Simple Modern Vacuum Insulated Stainless Steel Wave Bottle
For that health and fitness oriented woman in your life, the Simple Modern Vacuum Insulated Stainless Steel Wave Bottle is the ideal Christmas Gift.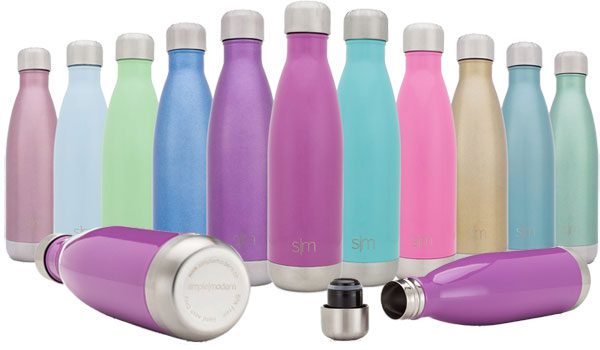 The bottle features a double vacuum insulated wall to maintain the temperature of drinks for 12 hours (hot drinks) to 24 hours (cold drinks). Its exterior is sweat-free, which eliminates the problem of getting desks wet. The stainless steel-made bottle fits snuggly in cup holders, coming in a 17oz narrow size.
---
8. Teabloom Blooming Tea Set
The Teabloom Blooming Tea Set is the ideal Christmas gift for women who love tea! This Glass Teapot set will undoubtedly transform teatime into an elegant affair.
The set features an elegant glass teapot (34 oz.), a canister with 12 tea balls, a tea pot warmer and 4 double-wall 3.4 oz. glasses. The teapot also comes with a strainer and works well with both flowering and bagged tea balls. It is dishwasher, stovetop and microwave safe.
---
9. Down Jacket: Orolay Women's Thickened Down Jacket & Columbia Women's Mighty Lite Hooded Jacket
Make sure she is warm during the cold Christmas season with a special Down Jacket.  The Orolay Women's Down Jacket or Columbia Women's Mighty Lite Hooded Jacket will do.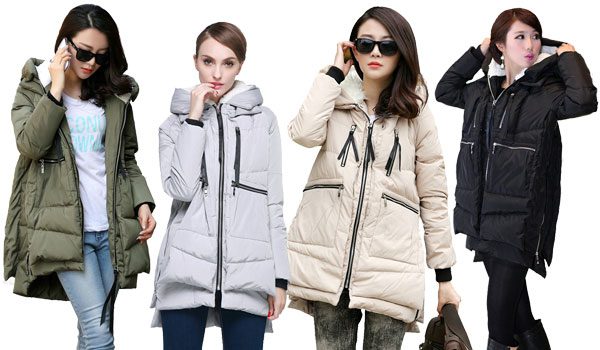 The Orolay Down Jacket comes in a flattering length and features unique stylish crumples. It is made using polyester material with a 60% higher density than what you would normally find in the market. It comes in Green, Black, Beige and Gray color options.
The Columbia Mighty Lite Jacket is polyester-made, features a quilted hoodie, a Drawstring adjustable hem and a full front zipper. The jacket also has vertical pockets as well as zipped media pockets on the inside.
---
10. Amopé Pedi Perfect Luxury Pedicure Gift Set
Pamper her feet with the Amopé Pedi Perfect Luxury Pedicure set. The electronic foot file is designed to effectively and gently buff away hard skin leaving your feet smooth and soft.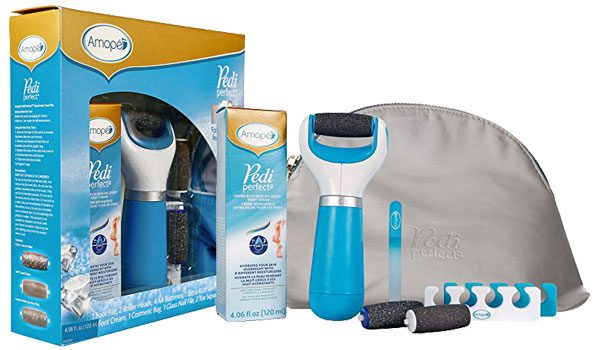 The foot file set comes with a standard coarse head, an extra coarse head and a soft touch finishing head. The Amopé Extra Rich Cream Recovery Cream is included with the package along with a glass Amopé-branded nail file.
With a list of 10 of the best Christmas gifts for women, you are guaranteed to make the women in your life quite happy this year. Also, these gift ideas for women will have you sorted out if you need to give out multiple presents to that special woman, because sometimes just one gift won't cut it!