Mobile notaries often expand their business, including loan signing, insurance company verifications, process serving, etc. Almost all options that grow their business involve small tech products or electronics to help automate processes and make their job easier. 
What are the best tech gifts for mobile notaries?
The top 7 gifts you should consider giving a mobile notary are:
A Portable Scanner 
A USB Charging Laptop Bag
A Portable Photocopy Machine
A Car Desk
A Solar Power Charger
A Portable Fridge
A Portable Food Warmer
A Mobile HotSpot
A Portable Scanner
When notaries work as loan signing agents or id proofers, they often need to scan documents back to agencies. The importance of scanning while out in the field cannot be understated. Having the ability to scan on the spot frees time for an additional job versus traveling back to the office to scan documents. Notaries can lose potential business by the added travel time alone. For loan signing agents, a portable scanner can make the difference in a higher paying job that requires "scat backs" vs. a job that requires hard copies only. This makes it one of the most important tech devices.
Are there smartphone apps with a scanning function? Yes. However, who wants to take a photo of 50-100 pages of documents? No notary should. It is inefficient and time-consuming. Most Portable scanners have a reputation for being intermittent and hard to work with.
Usually, users buy them with the expectation of replacing a home or office scanner with complex functionality. However, notaries use these for a single purpose; to email documents quickly. That is why I recommend the Brother Wireless Document Scanner, ADS-1700W.
There are several reasons the Brother Wireless Document Scanner, ADS-1700W, is the best option.
It has a feeder tray. Most portable scanners require someone to feed the pages through the scanner a single page at a time. The ADS-1700W can hold 20 pages per batch and scans at 25 pages per minute. So, a notary can scan 100 pages in under 5 minutes.
Unlike other options, the Brother ADS-1700 allows multiple options to manage each scan. The user can scan to the computer via USB (Mac or Windows), Smartphone, or even a USB flash drive. Using other options (i.e., direct to cloud storage, email, over WiFi, etc.) is not recommended. While it advertises, like many brands, to provide these options, the technology is immature in the vast majority of portable scanners. Wifi type options do not render the best results and can often trigger recurring issues.
A USB Charging laptop bag helps mobile notaries in two ways. It makes it easy to carry important stuff around and allows phones while on the road.
A USB Charging Laptop Bag or Tote
The bag is spacious enough to hold items like smartphones, chargers, files, books, and laptops. They have foam pads to shield gadgets in case the bag falls off or hits a hard surface. With a charging laptop bag, a mobile notary will not need to carry an extra bag.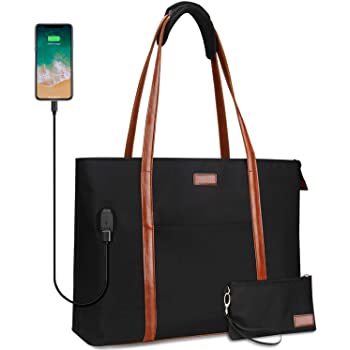 The perfect product for this is the Water-resistant Laptop Tote Bag for Women. This bag allows an easier way to use the charging device. With the aid of a charging cord, the power bank can remain inside while the phone charges outside.
At just around 25 dollars, buying this bag as a gift for your loan signing agent is a bargain. It is also aesthetically pleasing and perfect for a professional setting. Its brown and black colors make it match most outfits, and it is waterproof. 
A Car Desk
A car desk makes it easy to set up a mini-office and work from anywhere, and this is precisely what mobile notaries need. As many mobile workers can tell, it is not easy to work from a car because they are not for such a purpose. 
However, if you have a large workload, car desks make it convenient for you to work without hassle. 
Car desks can be very simple wheel attachments or can be a full-fledged working space. 
The installation of a car desk can be as simple as snapping a tray to the wheel. All that it needs is mounting space on the wheel. A complete office set-up will occupy your entire passenger side of your car. However, it is simple to install it with a seat belt at the passenger seat. When done working, it is also easy to uninstall.
These desks also have rubber material at the top surface to ensure that your phones or other devices do not fall off when the car is in motion.  This option ranges from $13 to $500.
A Solar Power Charger
When mobile notaries have many stops within a vicinity, they may not have time to charge their phones in a vehicle. A portable solar power charger can make up for this.
Solar power chargers come with multiple USB ports if the mobile notary needs to charge other small electronics. They are also compatible with all brands of smartphones and are not an expensive gift option.
Choose a rugged design when selecting Portable Solar Power Bank. 
Most come with a flashlight in case a mobile notary works out late.
It is not limited to smartphones and can work with Samsung, iPhone, and other devices.
It usually has two or more USB ports and multiple light indicators to let you know when charging with USB or solar.
It usually has an external battery that is rechargeable with solar or any other power source.
A Portable Fridge and Food Warmer
Mobile notaries are constantly on the road. This leaves them with little or no time for food packaging. Many have dietary restrictions or are merely trying to stay away from fast food. With gadgets like a portable fridge and a portable food warmer, eating healthy can be a possibility.
They will also save a lot of money because these days, eating out is very expensive.
The extra Mini Fridge is an excellent option for mobile workers. It costs just around $50, and its incredible features include:
Personal Food Warmer will be at around $35. Its features are:
A portable and capable of heating food

Usually Aluminum coated for durability.

Usually, it has automated temperature control to prevent over-heating.