Many people are curious about smart technology, but are afraid of diving right into it. This is especially true when it comes to home security. Those who still have their doubts about smart devices are hesitant to go all in on a device that holds the last real barrier between them and the outside world – the only thing keeping criminals from stealing their possessions.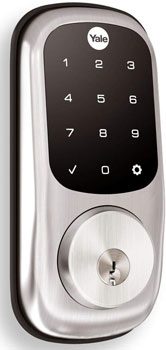 For those who want just a taste of the smart device world, the Yale YRD226-ZW2-619 touchscreen deadbolt is right for you. This device is easily installed over any existing deadbolt hole, meaning that the entire installation only requires a simple screwdriver.
The instructions are easy to follow, and it even has a little speaker that walks you through what you need to do if you're unsure. Once it's on, it operates just as any normal deadbolt would, but it has just a few smart features that make it more convenient.
It's less intimidating to those who are concerned about smart technology. The main smart method of opening the lock is through the touchscreen keypad. This keypad allows you to set your own PIN when it's first being set up, and then secures that once it's installed.
For an intruder to reset the PIN, they'd have to access it from the inside and disassemble it. The screen is backlit so that you don't have to worry about wear and tear on physical buttons, something that can clue intruders into what numbers the code uses.
You can also use the simple smartphone app in order to lock or unlock it remotely. This feature is tied directly with your account, so not just anyone can access it. This can be done remotely for you to check and see if you remembered to lock the door or if you need to quickly unlock it for someone else to let them in.
This means of opening it is optional, and you can stick with the standard deadbolt if that's what you feel comfortable with. One convenience feature that this lock provides is the ability to set an auto-lock timer.
This will automatically lock up the door if it's left unlocked for more than a certain amount of time, meaning that you'll never have to worry again about whether or not you locked the door behind you if you're out at work. A little bit of added security is never a bad thing.