Many TV brands have started to switch their focus from displaying cable to giving you methods of using all different kinds of streaming services. Without a smart TV, it can be a bit difficult to do this, because you'll often need to directly connect a laptop to the TV and pull up each different streaming service manually.
With Toshiba's 43LF621U19 new smart TV, you'll be able to use the power of Amazon's Fire TV to browse all of these services easily straight from the comfort of your couch. Fire TV aggregates all kinds of shows from different services, and as long as you have accounts registered with them and you're logged in, you'll be able to watch them instantly.
It can give you a catalogue containing shows from different services at the same time, meaning you don't have to switch between different ones over and over again to try to find a show to watch.
In the event that you lose your remote, which happens to be a pretty common occurrence with TVs, you can still use the built-in Alexa voice control to navigate your TV.

Using simple voice commands, you can completely control the TV and the different services. This can also make it more convenient to search for shows, because typing it in using a remote can sometimes be a little time consuming.
The fact that Alexa is built into this TV means that you can actually do much, much more than just use it for watching entertainment. Any Alexa-enabled smart devices around your house can connect to the TV as a hub, and you'll be able to use those same voice commands to control all kinds of devices around your house.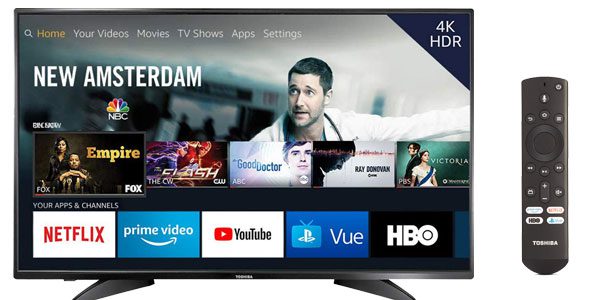 You can use it to turn the A/C on while sitting on the couch so that you don't have to get up and go do it manually, for example. Given that your TV will always be connected to WiFi, it can do something that many other TVs can't, which is downloading updates. If a new service comes out, your TV can update to include it as a new app, meaning you'll always be up to date on the best services that have the shows and movies that you want to watch. This also helps with security, because it can get updates that make your connection more secure from the outside world.