Life gets busy and taking time for tasks such as cleaning and vacuuming your house eats into your busy schedule. Not to mention that messes and spills happen, especially if you have little ones.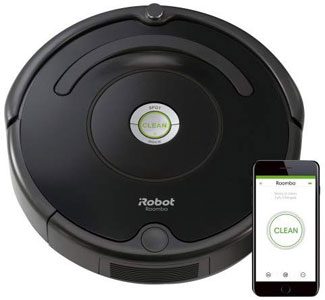 And if you have friends or family who want to visit, you'll want to sweep or run the vacuum over the floor. Then you have to take the time to put the broom away or roll up the cord for the vacuum.
It can feel like you're constantly working, even when you're trying to find time to relax. You can try to use those little hand held vacuums for quick fixes to get up spilled items or do to a bit of spot cleaning.
You could also try to get a cordless vacuum or one where the cord automatically retracts. Or, you could use a robot vacuum. The iRobot Roomba 675 can simplify your life and give you back the time you spend sweeping up spills or constantly checking for dirt and debris that get tracked in.

This vacuum takes the load off your shoulders with its 3 stage cleaning system. This top of the line system gets the dirt, including ground in dirt from all types of floors. It suctions it away so you don't have to sweep or vacuum up hair or worry about dust.
The system takes care of it for you. Even if the vacuum is moving from one type of floor to the next, it doesn't affect the depth of cleaning because the gadget will automatically adjust to deal with the level of whatever it's cleaning.

Because the Roomba 675 has built in sensors, it can detect dirt. So in high traffic areas where you have people walking back and forth a lot – like an entryway or between a kitchen and living room – the system will head there and clean the area more thoroughly.
These same sensors direct the Roomba so that it moves around things and will drive itself under furniture such as a sofa, chairs or table to get the hidden dust and hair.It also has an edge sweeping brush so not even dirt in the corners or around the baseboards of your home will escape the cleaning.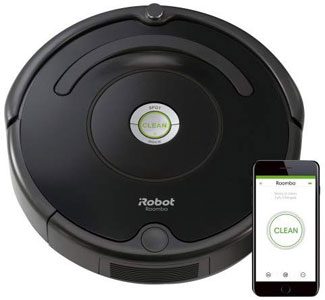 The system can be scheduled to run even if you're not home, so the floors are always clean. It relies on the use of Alexa or Google Assistant, so you can direct it as needed by telling Alexa to instruct the gadget to start or stop cleaning or what time to clean. It can work for 90 minutes before it'll need to recharge. The Roomba 675 is the solution to getting off the constant cycle of having to pick up debris from the floor, sweep things up or dragging out the vacuum. Because the cleaning can be scheduled, it saves you time and keeps the floors always family or visitor ready.