Outdoor Christmas Decorations – One of the fun activities that surrounds the Christmas holidays is deciding what type of decorations to put up. This is the time of year when you can go absolutely wild and let your imagination run away with you.
Here are a few suggestions that can create a festive feel to the outside of your home.
Christmas Lights
One way to ensure that your home stands out from the crowd is to use a series of brightly coloured lights to decorate the exterior. You can opt for the multi coloured variety or you can choose to use just one colour. It can take a lot of preparation work in order to hang the lights around the home but you can actually buy kits where a design has already been created for you. All you have to do is to decide where to position the light and attach it to a power source.
Other lights you can use include getting cute little lanterns to place in front of your door. You could also light up your garden path with a series of solar powered lamps.
Inflatable Santa
If you are a big fan of inflatable objects you can go wild and order a bunch of Christmas inflatable models to decorate the front and back garden. The most popular inflatable items are Mr Snowman and Father Christmas. If you live in a house, you could buy the type of inflatable that has been designed to look like Santa is making his way across the top of your rooftop with his sack of toys. A snowman inflatable is a great addition and you don't have to have any snow in order to enjoy it.
Christmas Wreaths and Garlands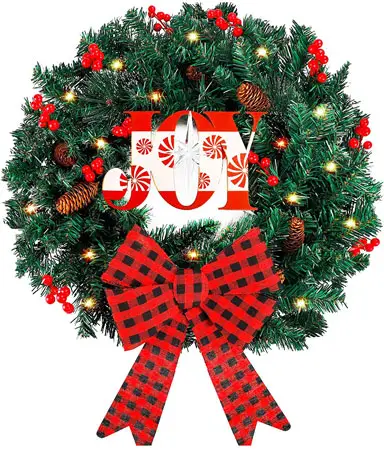 Flowers and garlands are always spectacular at any time of the year and during the Christmas holiday season you can really find a great selection of festive wreaths for the home. If you get them in different sizes, you can decorate each of your windows and place a colourful garland on the front door.
Artificial Snow
For many people Christmas and snow go hand in hand but if you do not live in a town or country that has a wintry season where snow falls then you can still enjoy the look of a white Christmas. This is possible in two ways. You can hire a snow making machine which will generate and spray snow all around your home. This can be quite expensive but if you have the funds your children are sure to love it.
Alternatively you can buy spray cans of artificial snow that can be used to decorate your windows and window sills.
Once you start decorating your home, you will definitely get into the holiday spirit. With a little bit of effort, your outdoor Christmas decorations will transform your home and make it look inviting to every visitor that walks up your garden path.