Willow Tree Nativity Set Review
One type of Christmas decoration that is enormously popular is the table top settings of the Nativity scene. These come in all shapes and sizes but the common thread is that these collections represent the birth of Jesus Christ.
If you love the idea of creating a Nativity scene using figurines, then a wonderful collection that you should consider purchasing is designed by American sculptor Susan Lordi. She produces hand crafted figurines using sculpting clay. The originals are then sent to a factory in China where the designs are replicated using a special resin which is able to capture every texture and knife mark that has been carved into the clay.
Then each sculpture is individually hand painted and has to go through a strict quality control process. Once successful, the Susan Lordi trademark is carved into the back of the piece to confirm that this is a genuine Willow Tree sculpture.
About The Sculptress Susan Lordi
Susan Lordi is a graduate of the University of Kansas where she lives with her husband and children. She has taught art and design in a variety of universities and has had her own work displayed in museums and travelling exhibitions. Susan created the Willow Tree company in 2000 which has now become a very successful business within the commercial gift industry. Her speciality is in using special carving techniques to produce a range of delicate looking figurines that represent different scenes and images.
The sculptures that make up the Willow Tree set are sold in different groupings meaning that you can either purchase a single piece, a double or a triple set. The figurines work well as standalone pieces or you can create a whole scene by collecting all the pieces.
The Willow Tree Nativity Set
The Nativity set is made of figurines that represent the story of Jesus. The pieces that you can buy include the following sets:
The Six Piece Nativity which includes figurines that represents Joseph, Mary holding baby Jesus, a young shepherdess holding a lamb, 2 additional lambs and a sitting donkey
The Three Wise Men figurines with each one holding their gift for baby Jesus
A Shepherd with his stable of animals which include an ox, lambs and a seated camel
A Cr่che which sets the scene for your display
Buy A Willow Tree Angel
The one image that can help to complete your Nativity set is a sculptured angel. There are lots of different styles within the Willow Tree range. Three examples of the style you could choose include a standing angel, an angel in prayer and a figure that has its arms held out and upwards. Each angel is created using the same sculpting technique and has a set of wings coming out of the back made from a collection of thin looped metal.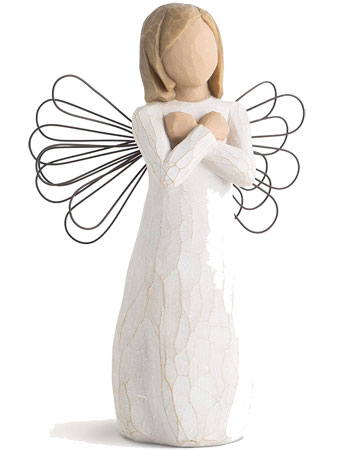 This type of Christmas decoration would make a wonderful display in your home and could be used as a focal point for your whole decor. Alternatively you could purchase any of these pieces as a Christmas gift for a loved one.