If you want a quick and easy way to get your Christmas lights, then shopping online at Amazon is the simple solution. There are plenty of styles to choose from and once you place your order, your goods will be delivered to your doorstep within a few days.
Here two types of Christmas lights that you could use to brighten up your home for the holiday season.
18″ Christmas Lighted Moravian Star Indoor/Outdoor Decoration
If you are looking for a lighting fixture that will be a focal point for your decoration, then the Moravian Star could be a good choice. This is a 3 dimensional light that is made from a molded plastic. You have to assemble the different pieces in order to achieve the end result but once this is complete you will have a star measuring 21 inches in diameter.
The electrical wiring is already in place and it works with a 25 watt incandescent bulb, which is also included in the purchase price. This light fixture comes with a 24 inch long electrical cord so the only thing you need to ensure is that you have a power source nearby.
One of the main advantages of buying this lighting decoration is that because it is made from a durable plastic, you are able to reuse it time and again. As long as it is stored adequately, you will get plenty of uses from it. It has also been UV treated in order to prevent the plastic turning yellow.
Whether you choose to place this light above your front door to welcome your guests or to use it indoors, this would definitely make a good investment.
Lawn Lights Illuminated Outdoor Decoration, Led
If you are looking to completely transform your outside space this Christmas, then you will definitely be able to achieve this with the Lawn Lights Illuminated Outdoor Decoration kit. There are different sets to choose from but the overall effect that you will get is an expanse of land illuminated by individual LED lights.
The basic kit comes with 36 LED lights which are attached to a single flex of cord. The lights are spaced 10 feet apart. This means that one set should be able to cover up to 4000 square feet of land. If you have a smaller garden or front lawn, this isn't a problem. It just means that your lights will be much closer together.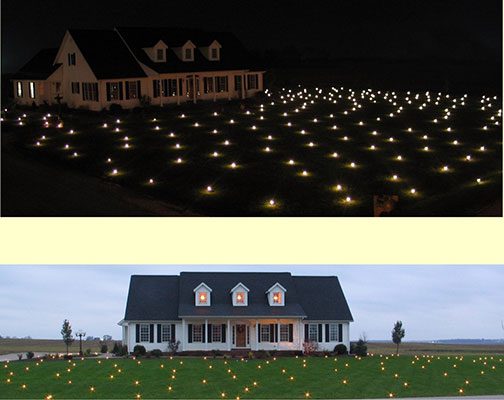 It will take the average person about 15 – 20 minutes to set out the lights depending on how creative you want to be with the lighting design for your lawn.
As well as the LED cord, you will also get a set of wire stakes which you attach to the lights and push into the ground. This makes sure that the lights can not move out of place. There is also a concise user manual which will provide you with step by step guidance so you can be sure that you are using the equipment correctly.
Each light consists of a 2.5 volt mini lamp. This is the same type of bulb that is used for Christmas tree lights. There is no need to worry about the amount of electricity that these lights will use as they are powered on a low level lamp and use about the same amount of power as your Christmas tree lights.
There are currently six different types of Lawn Lights to choose from and each set produces its own type of lighting effect. The options are as follows:
Traditional warm white lighting
Sparkling lighting with a flicker effect
Blue lights
Green lights
Red lights
Multi coloured lights
Each kit comes with extra stakes and bulbs which are easy to change if any of the set gets damaged.