One way to celebrate Christmas is to have a set of Christmas style dinnerware that has been specifically produced for the occasion. Items that you could consider buying include a set of Christmas mugs, glasses, a beautiful tablecloth and napkins. Here are a few suggestions that you could consider.
Buy Christmas Mugs
A great way to start your Christmas morning is to share a hot cup of cocoa with your family. A lovely way to do this is to use a set of Christmas style mugs. There are plenty of mugs that feature classic Christmas scenes including images of Santa Claus, a cosy living room with hanging Christmas stockings, Christmas bells, a jolly looking snowman and a snow topped house. You can pick and choose individual cups for your family or buy a complete set.
Buy A Christmas Tablecloth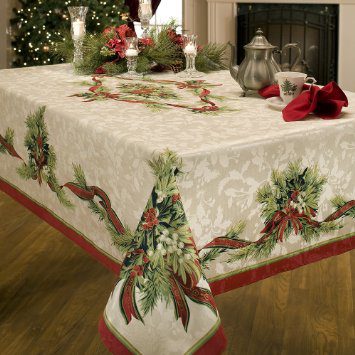 A wonderful basis for any dinning room table has got to be the tablecloth. You could opt for a plain white cover but as Christmas is such a special occasion, why not choose something that highlights the festive season. You can find quite a few tablecloths that feature designs using garlands of ivy adorned with ribbons incorporating the rich gold, red and green colours.
The most important thing that you have to look out for is that the cloth is the right size for your table. You can choose a cloth that is made from polyester or paper so that you can throw it out after dinner is over but there are some great options made from a poly cotton mix which makes them perfect for using again and again. You can simply throw them in the washing machine after use and store it away for next year.
Buy Christmas Drinking Glasses
Whether you are looking for a set of wine glasses or highball glasses, you will find that there is something suitable for you. You can choose to buy glasses that have different types of Christmas logos printed on the front. Things like a Christmas tree, a gold star or a snowflake would be perfect items for the dinner table.
Buy Christmas Napkins
When you are looking at buying a set of Christmas napkins, you may want to buy a set of fabric cloths to use during dinner and an additional set of Christmas paper napkins for family and guests to use for snacks. You can never have too many napkins and with the range of designs that are available, you will be looking for more occasions to use these items. Choose designs with Christmas trees, garlands or animated snowmen.
Buy Christmas Plates
Once you have chosen a set of Christmas drinking glasses, you may like to look for a set of plates that will co-ordinate and complete your dinner table. The ideal set could be a porcelain collection with a single design printed on the center of each plate or a decorative pattern around the rim of the plate. These plates are sure to get everyone into the Christmas spirit as soon as you lay the table.
Choosing the perfect set of cups, glasses, plates and napkins can help to create the perfect setting for your Christmas day. Take a look at what is available online today so that you are prepared for the big day.