Music is all about choice. You might want something rock sounding in the living room, more mellow in the kitchen and the sweet sound of jazz or instrumentals in the bedroom.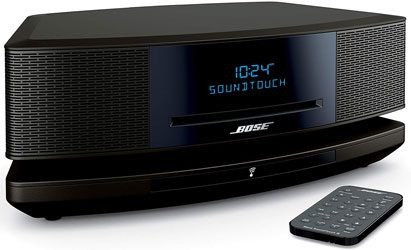 But the problem is that not all music systems give you that choice. You get stuck with whatever setup comes with the system. You don't want to waste time or deal with inconvenience of having multiple room set ups just to listen the music you want to hear where you want to hear it at.
You can buy a main system for your living room, then hook it up to your other rooms. You won't get a lot of options for changing up the music, though from one room to the next.
Or, you can get a music system that puts you in charge, yet still gives you voice control convenience. The Bose Wave SoundTouch Music System IV is designed to work with Alexa so you get multiple options to get entertainment your way every time.
Alexa allows you to control your choices effortlessly. You speak and the music follows.
And it's not just streaming music that you'll be able to get, either. Wherever there's music, you can get it.

If you want to listen to it from the Internet, you have that option. You can hear music from your customized library, from the radio, and it'll even play those CDs that you still love and have held onto.
It also gives you the ability to play music from Spotify, Amazon, Pandora, SiriusXM, Deezer, IHeartRadio and more. You'll be able to create preset music lists and set those using the remote or through the app.
This will give you access to thousands of songs. The product is compatible with other Alexa devices. It uses a wireless connection and is compatible with Bluetooth, too. So you can play music using your phone or other gadget as well.
A great feature with this system is that you can listen to the same music in every room in your home. But you don't have to if you don't want to. Taking it a step above other music systems, the Bose Wave gives you the ability to listen to different music in multiple rooms.
So you can listen to country in the living room, rock-n-roll in the kitchen, instrumental in the dining room and kids' songs in the playroom. It can deliver quality sound, thanks to the waveguide technology built into the system.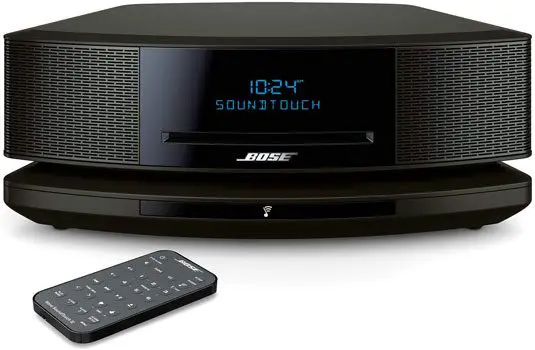 Your music will be a rich, crystal clear performance in any room. Because it has Alexa, you can use this as a hands-free way to change songs, turn up the volume, decide where you want the music played or not. You would just say something like, "Alexa, turn off the Kitchen" and the music in that room would shut off. Get the Bose Wave and give yourself the ability to hear the kind of music you want to listen to wherever you are in your home.