Security cameras are becoming more and more versatile and commonly available, and the new Blink XT2 is no exception. This camera can be used both inside and out, and by using the smart technology features included with it, you can be sure that your property is going to stay safe and you'll be able to keep in touch with your loved ones easily.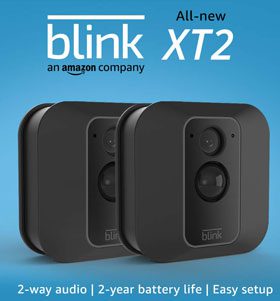 This Blink camera is built to be able to withstand the elements, so it can be used outside as well. This means that it can put up with rain, wind, heat, and other elements. It does, however, have specific operating temperatures.
This range of temperatures is pretty big, but if you live in an area with some more extreme temperatures, you might want to check just to be sure it can handle it. One of the advantages of using the same camera for the outside that you do for the inside is that you can easily pair them up and view them from the same app, saving you the hassle of having to switch between multiple websites and multiple apps just to view the live camera feeds.
These cameras stream constantly, and you can view it by logging into your account. A useful feature built into this camera is the two-way audio, which means that it has both a speaker and a microphone.
This opens up a lot of possibilities. On the security side, if you saw a burglar, you could tell them that police are on the way, and they'd probably bail right then and there. However, this also has a more wholesome use, in that you could see and talk to your kids when they got home from school – even if they'd let their own smartphone run out of charge.
You can set up a feature on these cameras to only detect motion in a certain zone, saving you from getting unnecessary alerts. For example, if you had one pointed out at your front lawn, you could set the zone to include everything but the street, so that you weren't getting alerts every time a car passed by.
These cameras have high quality IR vision, meaning that they can see in the dark. Of course, this is useful for the outside portions of the house, but it also means that it can be used in a nursery, letting you watch your baby and even hear if it's crying or not.